DepEd-DRRMS and UPLB UL-ALIVErary BOOKS Program collaborate in Natl. Climate Change Conference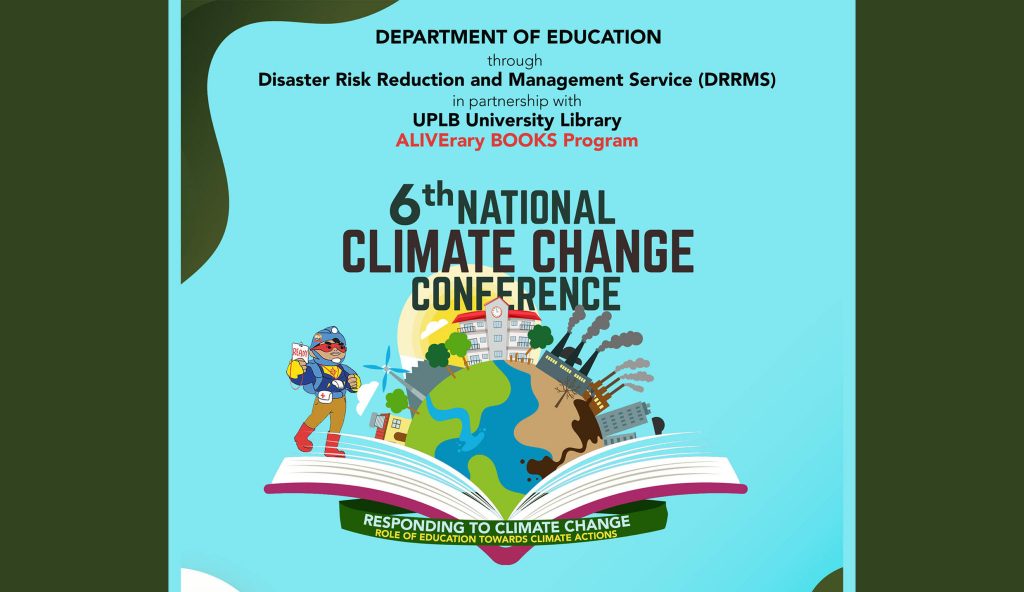 The Department of Education-Disaster Risk Reduction and Management Service (DepEd-DRRMS) collaborated with UPLB University Library ALIVErary BOOKS Program to conduct the 6th National Climate Change Conference with the theme "Responding to Climate Change: Role of Education Towards Climate Change Action."
The conference was held on Nov. 23-25 via virtual conferencing and streamed through Facebook with the objectives of strengthening awareness and increasing participation of learners, teaching and non-teaching personnel, and the academic community in climate change adaptation and mitigation interventions.
Roselle V. Collado, the assistant to the vice chancellor for academic affairs of UPLB, welcomed the group on behalf of Dr.Jean O. Loyola, vice chancellor for academic affairs. She commended the two institutions for their collaboration, emphasizing that this learning session will showcase the involvement of librarians and learners in disseminating awareness in responding to climate change.
Director Ronilda R. Co of the DRMMS gave an overview of all the activities for the three-day event. She mentioned the possibility of collaboration to campaign for rich countries to provide funds to combat the impact of climate change in developing countries.
In his keynote address, Chancellor Jose V. Camacho Jr. said that academic institutions play a significant role in climate action in instruction and dissemination. He mentioned the involvement of UPLB in the climate change program, particularly under the Resiliency and Sustainability priority area of AGORA or Accelerating Growth through One Research and Extension in Action.
Day 1 of the conference was the climate education webinar "Climate Change: Science, Impacts, and Climate Actions," with Dr. Yusuf A. Sucol, researcher and coordinator of the UPLB Climate Change and Disaster Studies, as the first speaker. He demonstrated a comprehensive illustration showing the processes like global warming, the greenhouse effect, and others; and their impacts on the atmosphere, planet, environment, and human beings.
Another speaker, Cristina B. Villanueva, a librarian at UP Baguio, spoke on the role of libraries in climate change by introducing the concept of an environment-friendly green library. She discussed how the environmental impact of existing library facilities might be reduced.
Day 2 highlighted the following stories: Teachers as Leaders in Climate Crisis, Young Climate Changemakers: Human Interest Stories, and the Power of Schools for Climate Action.
Mary Angelique Cabal, a science teacher from Bogtong NHS in Mangatarem, Pangasinan, talked about Teachers as Leaders in Climate Crisis. She focused on what teachers can do inside and beyond the classroom to adopt Education for Sustainable Development (ESD) as an integral part of SDGs and to reach the goal of transforming society. Cabal said that by attending training courses on climate change, they became aware of it and knew how to act.
Five young climate changemakers' stories were featured in the next story presented by Harvey Parello, project manager of Save Philippines Seas. The stories were outputs of the Climate Action Training "Change the Current" Program of DepEd DRRMS and UNICEF Philippines. Filipino junior and senior high school students narrated the projects they implemented during the training to make them play an active role in climate change adaptation and mitigation strategies in their community.
The third featured story was of the Bonuan Boquig National High School (BBNHS) led by its principal, Renato Santillan. BBNHS has been cited as the World's Best School for Environmental Action for helping rehabilitate Langos River mangrove areas in Dagupan City as part of their involvement in environmental action.
The World's Best School Prizes was launched this year by T4 Education, with Accenture, American Express, Yayasan Hasanah, Templeton World Charity Foundation, and Lemann Foundation. It shares the best practices of schools that impact their learners' lives, making a real difference in their neighborhoods.
Day 3 involved climate dialogue with experts on climate change adaptation (CCA) and DRRM, impacts on child rights, role and power of indigenous peoples in climate and environmental restoration.
Dr. Rodel Lasco, executive director of the Oscar M. Lopez Center for Climate Change Adaptation and Disaster Risk Management Foundation talked about CCA and DRRM. He said that the climate is changing and bringing with it more disasters. He reiterated the need to prepare now.
Christiane Katriel Defensor, development management officer of the Philippine Climate Change Commission, talked about understanding climate change and its impacts on the Philippines.
An expert from the Philippine Commission on Human Rights, Joanna Christina Sta. Isabel, talked about the individual and collective human rights that are adversely impacted by climate change such as the right to life, food, water, sanitation, and health, including the right to food security, development and sustainable economic growth, self-determination, preservation of culture, equality and non-discrimination.
Students then pledged to combat climate change and to save the environment as provided for in the manifesto, "The change begins with me, join now, act now, right now."
DepEd Regional Directors Estela P. Leon-Cariño (CAR), Tolentino G. Aquino (Region I), Ramir B. Uytico (Region VI), and Ruth L. Fuentes (Region IX) imparted messages about the role of campaigns in combating climate change.
Director Co concluded the 6thNCCC event with a message emphasizing the importance of the role and action of educators, learners, and stakeholders in combating climate change. She encouraged the public, "everyone must act, and the time is now."
The NCCC is regularly conducted in line with Republic Act 9729 or the Climate Change Act of 2009, which provides, among others, for the Department of Education to integrate climate change principles and concepts into the primary and secondary education curricula and subjects, such as but not limited to, Science, Biology, Sibika, History, and in textbooks, primers, and other educational materials.
The University Library advocates the future-proofing of libraries to support this mission. It aims to be involved in disseminating information and knowledge to communities, particularly in responding to climate change through collaboration with the DepEd-DRRMS. (Virginia P. Alcantara)  
This article was originally published on the UPLB website.  
The Staff Training and Development Committee of the UPLB University Library successfully organized the inaugural national webinar, "AI Technology: Challenges…