University Library holds 1st national webinar on AI technology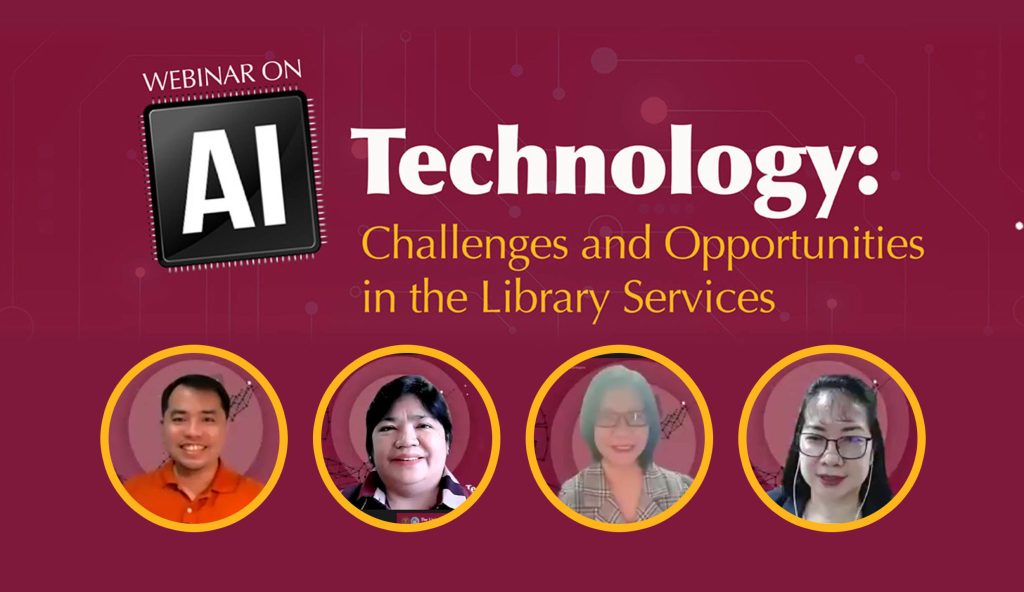 The Staff Training and Development Committee of the UPLB University Library successfully organized the inaugural national webinar, "AI Technology: Challenges and Opportunities in Library Services," on May 26. The event took place via virtual conferencing and was streamed live on the University Library's official Facebook page.
An audience of 524 librarians from different CUs, academic institutions, and professionals from various regions attended the webinar, which aimed to equip participants with knowledge about artificial intelligence (AI) and its implications for libraries. It also aimed to empower them to develop innovative programs using AI technology.
In her welcome address, Dr. Mary Ann M. Ingua, university librarian, emphasized the importance of keeping pace with change and ensuring that libraries can evolve alongside modernization.
She encouraged the participants to explore ways to enhance library service in response to public needs while leveraging technological advancements and developing more efficient programs.
Prof. Roselle V. Collado, assistant vice chancellor for academic affairs, delivered an inspirational message where she acknowledged AI's potentially intimidating and challenging aspects.
However, she said AI's potential should be fully harnessed and explored in academia.
The webinar featured two speakers, lawyer Senando Angelo R. Santiago, a Law Reform Specialist III from the University of the Philippines Diliman and senior lecturer at the UP College of Law and UP School of Library and Information Studies, and Renz C. Cao, college librarian at the College of Veterinary Medicine of UPLB.
Santiago delved into the technical aspects of AI, its potential, and its limitations. He discussed how it could effectively deliver library services, address critical pain points, and advocate data-driven decision-making to provide innovative solutions.
He also shared insights on developing user-centric library services and programs leveraging AI technology.
Cao, who chairs the User Education Training Series Committee of the University Library, provided participants with an overview of its Information Literacy Program (ILP) rebranding.
He introduced the soft launch of "Infoskilled: UPLB Fostering Lifelong Learning," a program that aims to equip individuals with knowledge and skills to access information effectively and efficiently. It also aims to cultivate information-literate individuals through learning activities designed for lifelong learning.
The open forum allowed participants to discuss AI in library service and explore its benefits, challenges, preparations, and impacts on libraries. It enabled them to contribute to a fruitful exchange of ideas and insights and equipped the participants with valuable knowledge and strategies for embracing AI's potential in their libraries. (Meichelle Ann Jenine R. Galapon)
This article was originally published on the UPLB website.
The UPLB University Library conducted a strategic planning workshop with the theme "GEAR UP: Getting equipped toward excellent, adaptable, and…